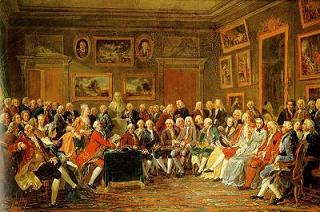 Last night I attended a salon. Yup, I mean the kind of salon that was invented in 16th century Italy. Except this 'salon' was held by the Boston+acumen team at a bar in Cambridge, Massachusetts to chat about measuring social impact.
To spark the conversation, we took a look at this blog post and this presentation by Sasha Dichter, Acumen's Chief Innovation Officer. The conversation led to dialogue much broader than the field of impact investing. Here are some of my reflections post-discussion:
A common set of metrics have been defined for the impact investing space. But, metrics are not only for investor consumption. Investors, organizations and beneficiaries all use and act on metrics in different manners. It should be emphasized that measuring social impact always varies contextually, and that common metrics should not lead to lazy measurement on the part of organizations. Organizations need to critically think about everything they measure and how it will be used.

Organizations sit at the heart of data flow, and receive investment or grants from a range of organizations including venture capital firms and aid agencies. A more multi-sectoral conversation should be taking place to create guidance on metrics. The conversation should not reside in the impact investing space alone.

To truly understand the needs of the financially poor, we should collect both qualitative and quantitative data. Quantitative data puts evidence to anecdotes. Good qualitative data explains the reasons behind quantitative data. To give a simple example, only 20% of expectant mothers may attend a health clinic. Without qualitative data, we do not understand why attendance is low, and we cannot improve upon attendance. We tend to shy away from conversations on qualitative data because they can often be messy. I encourage folks to dive into this tangle. This is a part of what I'm trying to do as I build TulaLens.

Impact should be gauged based on an improvement in lives, not solely on an increase in income. I know this definition is more cumbersome, but it puts the power of decision-making into the hands of low-income people, making the approach more effective. Here's an example we discussed: Suppose a social venture sells eyeglasses to the poor. We don't immediately know if these eyeglasses improve a person's income (though this could be modeled or studied in an impact evaluation in the long-term). However, we can collect qualitative and quantitative information to ascertain that the eyeglasses are adding value to a person's life. It is our duty to create methods of measurement that capture reality, rather than to mold reality to a narrow definition of impact - increased income.
Overall, the Boston+acumen team did an excellent job executing this event. There are two specific pieces I'd like to commend. First, they created a welcome space for discussion by breaking us into small groups and using thoughtful facilitators. Second, including non-experts in a conversation on social impact created unexpected avenues of conversation. I'm looking forward to my next modern-day salon!