As of 2012, 75% of the world's population had a mobile phone subscription. The penetration of mobile phones across the world represents an unprecedented swiftness in adoption of technology. In low and middle income countries alone, 4% of the population had a mobile subscription in 2000 skyrocketing to 72% of the population in 2010. "Maximizing Mobile" is a World Bank report published in 2012 assessing the high uptake and broadening applications of mobile technology.
At a macroeconomic level, an econometric analysis in India shows that mobile subscriptions by population causes higher economic growth within the same country. A 10% increase in mobile penetration equated to a a growth rate of 1.2% points more on average in India as shown:
What does this mean at a micro level? Social entrepreneurs, governments, non-profits and others will find innovative ways to provide services through mobile technology to low-income people who they previously could not reach. These services span many sectors including health, education, financial services and agriculture. Below, I have profiled a handful of organizations that have developed such technologies. The organizations that have developed these technologies have been able to assess impact in some cases. In others, the technology is fairly new, but has potential to be impactful. This is by no means an exhaustive list of interesting mobile technologies. Rather, it is a list to urge you to think of some of the creative ways in which mobile technology has been applied in the developing world.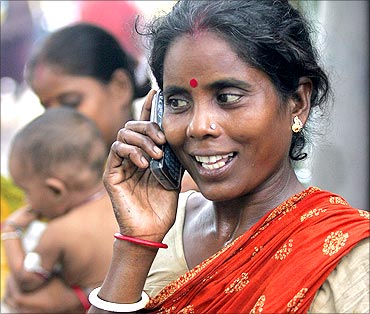 Dimagi: Founded in 2002
Sector: Several; this technology focuses on health
Location of organization: Cambridge, MA
Challenge: Community health care workers across the globe often have to collect data in cumbersome paper-based registers when they go into the field. They also have to deal with cases of varying complexity without support, and deliver several aspects of care to their clients to ensure their wellbeing.
Solution: CommCare is an open-source mobile platform that allows community health workers to collect data, and access educational tools for support in decision-making and behavior change communication. In addition, Commcare allows users to monitor at-risk patients. This is of particular use in hard-to-reach areas. Research has shown that Commcare has helped to improve access, quality and accountability of health care provision. Commcare is now being used across 35 countries.
Other interesting innovations in the m-health space can be found as follows:
Efiko: Founded in 2012
Sector: Education
Location of organization: Nigeria
Challenge: In Nigeria, as well as many other developing countries, there is often a shortage of teachers, an overcrowding of classrooms, and a lack of infrastructure at government schools. This is a challenge that students face from the time they are in primary school onward. Families may not be able to afford to send their children to private institutions.
Solution: Efiko is a free, mobile-based application that allows secondary students in Nigeria to learn in a self-paced manner. The application includes quizzes for self-assessment and games, and was made to inspire students to take charge of their own education. The content is aligned to the national curriculum. The product was founded during the Co-Creation Hub Nigeria's Tech-in-Education meeting. Based on the impact of this product, Efiko will expand services.
FrontlineSMS: Founded in 2005
Sector: Financial Services
Location of organization: Washington DC and Kenya
Challenge: In the developing world, 41% of adults have a bank account. Meanwhile, 89% of adults have bank accounts in the developed world. An IMF study shows that some of the most commonly cited reasons for this discrepancy include not having enough money to put into a bank account, the distance of banking institutions, and not having the proper documentation to open an account. Access to banking affects both individuals and institutions. Some mobile operators now provide accounts to corporations, but generally only to large businesses.
Solution: FrontlineSMS: Credit helps organizations that provide services to low-income consumers utilize mobile money. They focus on small and medium size companies. Not only does the open-source technology allow users to send and receive mobile money payments, but it also allows users to manage loan repayments, savings plans and installment payments at a low cost.
Virtual City: Founded in 2001
Sector: Agriculture
Location of organization: Kenya
Challenge: Small farm holders in Kenya do not always have a surplus of crops. When they do, they often do not receive fair prices for these crops because they do not have the knowledge of what prices they should ask for. The farmers generally give surplus crops to the local cooperative, which then sells the crops to an agri-processor. The cooperative may have several challenges with record keeping and tracing products sold to the agri-processor.
Solution: Virtual City provides a mobile solution called Agrimanagr for small farm holders to ensure they are being paid fairly for their produce. When the farmer takes his/her crops to the local cooperative, they are weighed and the farmer receives a receipt. The mobile technology transfers the exact weight, information about the crop quality, and the farmer's information to a central server. Once the crops are sent to the agri-processor, the crops are again weighed. This is compared to the entered information to ensure there are no discrepancies. Farmers are then paid, often using mobile money transfers. According to Acumen Fund, an investor in Virtual City, small farm holders using this solution will increase their earnings by an additional 10% on average. They are working with Virtual City to scale this product.
Please feel free to share any other interesting mobile technologies that have been harnessed to create better lives for low-income consumers.
Subscribe in a reader